A Super Bowl II ring given to Packers Hall of Famer Ray Nitschke sold for $91,151 in a major sports memorabilia catalog auction in the early morning hours of April 28.
The ring, presented to Packers players months after Vince Lombardi's final game as head coach, was passed down to Nitschke's daughter Amy who signed a letter of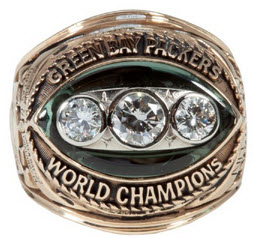 consignment on March 1.
The price includes a buyer's premium from SCP Auctions, which included the ring along with hundreds of other vintage sports memorabilia in its auction.  Extended bidding on several items pushed the auction from a Saturday night close into the wee hours of Sunday.  Numerous pieces consigned by former sports greats Rollie Fingers, Steve Garvey, Bret Saberhagen and Chris Mullin were also in the auction as were items from the estate of Baseball Hall of Fame inductee George Sisler.
Nitschke played on five championship teams during a 15-year career in Green Bay.  He was inducted into the Pro Football Hall of Fame in 1978.
Authentic Packers Super Bowl rings from the Lombardi era are prized by collectors and fans.  Fuzzy Thurston's ring from Super Bowl II sold for over $50,000 in 2011 as part of a government ordered sale to pay back taxes.  A Super Bowl I ring from lineman Steve Wright sold for over $70,000 earlier that year.