Green Bay Packer fans have many reasons to celebrate these days. Not only are the Packers the defending Super Bowl champs, it seems clear that Green Bay also is on the verge of a football dynasty. The team now owns four Super Bowl titles and 13 NFL championships in all. You may not be able to afford a Packers Super Bowl ring but you can locate a pretty nice copy.   In fact, below this article you can find Packers Super Bowl replica rings for sale that look just like the ones that were handed out to players and coaches.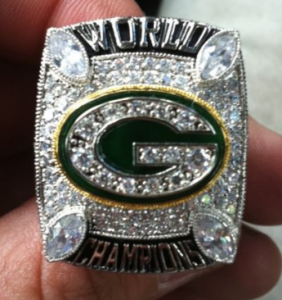 Since the latest Super Bowl victory is so recent, it seems unlikely that fans and collectors will find the actual title rings for sale just yet. Former Packer tackle Steve Wright did offer up his Super Bowl I ring not too long ago and it fetched an incredible $73,409. So there's a possibility the most recent rings could become available at some point-but until then what do serious Packer fans do if they want to sport the jewelry now?
Former coach Vince Lombardi would have even been proud of the run from Wild Card to Lombardi Trophy holders in 2010-11. Needless to say, fans across the country are anxious to see what a Super Bowl ring might look like on their own finger and possibly opt to buy a special momento from that incredible season. The only problem is that the real bling, if made available, would come with an extremely high asking price--probably $50,000 and up. So fans and collectors may have to opt for replicas.
In fact, there are already several listings online on eBay for replica rings. These rings aren't the real deal-but they aren't accompanied by the real cost either. The prices of replica type rings typically ranges from $100-$400. So it's not out of the realm of possibility that the average Green Bay Packer fan might be able to acquire their own individual treasure from the Packers most recent run. It could also make one spectacular Christmas present for the diehard Packers fan for a reasonable amount of money.
Many replica championship rings are made with Cubic Zirconium stones and bare a very close resemblance to the real thing made by Jostens. In fact, the casual observer wouldn't be able to note much of a difference at all because they are so impressively realistic. Packers replica Super Bowl rings typically have the wording "World Champions" engraved. Some may even have players names like quarterback Aaron Rodgers. The specifics of each individual ring as well as the actual ring composition might determine the asking price.  You can sometimes even buy the ring and have it personalized for you!
The replica rings centered on Packers Super Bowl triumphs doesn't stop with the 2010-11 run for glory. Packer fans may make note of the 90's championship era. For example, a 1996 Packers Super Bowl replica ring was recently placed on eBay with an asking price of $299. Similar to other such replica rings, it's a fan ring that sports cubic zirconia stones. Pictures of the actual ring reveal symbolic words of the title run including "World Champions," "Favre" and the score of the game. Fans couldn't ask for a better piece of history if they are interested in purchasing sports memorabilia from an incredible Packers season.
The bottom line is that Packer fans have many options these days when attempting to sport jewelry from the great runs of many fantastic Green Bay seasons. The search for rings is an easy one these days and it just might be quite worthwhile to the serious fan or collector. Look below to check out what's available right now via eBay, clearly the best place to find Packers Super Bowl rings.