The Vince Lombardi trophy is coming home.  For the first time since 1997, the Green Bay Packers are NFL champions.  It's been an incredible ride and now the race is on to get the latest, greatest Packers Super Bowl championship shirts, caps and other memorabilia from their victory over the Pittsburgh Steelers.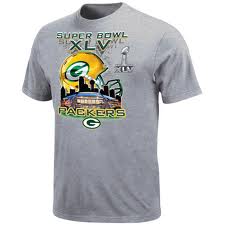 There are several national outlets that are making Super Bowl XLV items available NOW.  There's no need to fight the crowds if you're in Wisconsin.  No need to wait if you're not.   As soon as the result became official, the presses went to work, with apparel being created to satisfy Pack Nation.
Packers gear is popular year-round but as we saw after Super Bowl XXXI, companies who deal in such merchandise know they will face an onslaught from fans around the world whenever the team does something special.
Where can you get it?  Here are a few very reputable outlets where you can find what you're looking for.  If it's not there now, it will be VERY soon.
FansEdge.com
, is one of the largest online sports retailers on the planet. They broke sales records over the holidays, so they are well equipped to handle what will likely be a flood of traffic from fans looking for Packers Super Bowl championship shirts and hats or other high quality Packers gear.
Football Fanatics had its NFC Champions gear online within minutes of the win over the Bears so they'll have Super Bowl XLV shirts, hats and more.
CBS Sports Shop is a very familiar name that has plenty of material available. Just click the Packers link on the left side of the page.
And Amazon.com is among the fastest shippers in the west.  They were on top of things when they created their Super Bowl XLV store
, a section where nothing but jerseys, shirts, game programs and hundreds of other items can be purchased.