Are you looking for Packers NFC Championship shirts? The game was exciting enough, but with the Pack on the way to the Super Bowl, you'll be able to celebrate every day until Super Bowl XLV with an official shirt, cap or other item commemorating the win over the Bears that made history. You can find the official gear online soon. The best place to buy them is probably FansEdge.com
.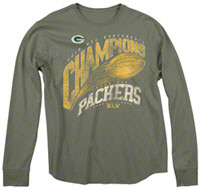 You can buy t-shirts, sweatshirts and caps just like you saw the team wear in the Soldier Field locker room after the game on Sunday as well as other items.
Don't buy knockoff merchandise from fly-by-night sellers. Fans Edge is one of the largest retailers of sports apparel and memorabilia and you'll get nothing but official stuff.
Another option is Football Fanatics. The company was ready moments after the Pack clinched Sunday night, offering a wide selection of items that will grow as we go forward to Dallas. Check their large color ad in the lower left of this page.
We highly recommend either company...and there's no need to fight the crowds and hope your local store has something. It's been awhile since fans have been able to don Packers NFC Championship shirts, so you can bet that a huge number of fans will be sporting new gear over the next few weeks.