The official Super Bowl XLV DVD from NFL Films is an absolute must-have for Packer fans.  Coming from NFL Films, you know this isn't just a highlight reel.  From start to finish, they've done a terrific job capturing the essence of the 2010 Packers season that was capped off by the incredible, improbable late-season run to a Super Bowl 45 title.
The opening minute will give you chills as we hear the voice of ...well, I won't spoil it for you.  It makes you proud to be a Packer fan...let's just leave it at that.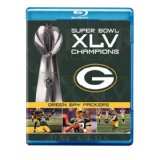 NFL Films takes you through the entire season, with a short synopsis of the first 17 weeks.  The real treat, though, is the sideline sound they're so famous for.
Clay Matthews is miked up more than once and we get to hear the ferocity with which he plays linebacker.  It almost hurts just to listen.
B.J. Raji and Greg Jennings also "star" in the Packers DVD.  Both come across and funny and enthusiastic.  We know that from afar, but the video really brings it home.
In the Super Bowl, we hear Jennings give some fairly mild verbal heat to Troy Polamalu for what Jennings thought was a cheap shot on Jordy Nelson.
"Don't do that to my boy!" he yells.
Another signature moment comes when the mike picks up Packers linebacker coach Kevin Greene  telling Clay Matthews that the team's offensive and defensive leaders, Donald Driver and Charles Woodson were out for the rest of the game and that "it's time" to make a play.  Seconds later,  Matthews tells his teammates on the field he thinks the Steelers are going to run the next play to his side of the field.  Of course, we all know that's exactly what happened.  Matthews forced a fumble on a  run by the Steelers'  Rashard Mendenhall.  It pushed the momentum back toward the Pack who drove for a touchdown.
The only weak point in the NFL Super Bowl XLV DVD is that the 'bonus features' are mostly NFL Network and Fox segments most fans may have already seen.  We do get a nice interview with Mike McCarthy and Steve Mariucci that was taped as the team was preparing for the Super Bowl.
I'm told the Blu-Ray version has better bonus features, so if you've got a Blu-Ray player, that might be the way to go.
The official Super Bowl XLV DVD runs about two hours.  It'll seem like two minutes and you'll be ready to watch again when it's over.  You can buy it--and other Packers DVDs via Amazon.com.   Click here
to get it.  You can also try Football Fanatics which has a mountain of Packers stuff here
.