The new book "Green Bay: A City and Its Team" has been a huge hit in northeastern Wisconsin, but it's written by a Packer fan in Texas. The book chronicles the history of the Green Bay Packers as well as the team's immense impact of the culture of Green Bay Wisconsin as well as the impact the team has had on the NFL in general.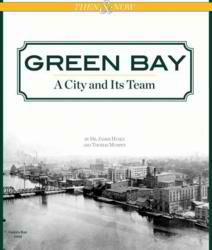 If you're thinking this was someone's weekend project, think again.  It's 511 pages contains 375 photos and weighs five pounds.  It took more than 1,000 hours to complete, with the author working in bits and pieces whenever he had time.
The book has been called "the definitive book on the Green Bay Packers", "a book unlike any Packers book written to date" and "a must have for all fans of professional football in America".
Author James Hurly, who was inspired by a sense of his fanaticism for the Packers (he owns several pieces of historic Packers memorabilia) and history, is a married father of four from Amarillo, Texas.  He's a physician and Packers stockholder and an avid historian.
Featuring over 300 pictures that paint a visual picture of the great history of the Packers, the book chronicles the past and present while giving the reader an exciting view into the world of this iconic American team.
Co-author Thomas Murphy is a husband, father and grandfather who is a member of the Green Bay Packers Hall of Fame and its Executive Committee. Since 1998 he has served as Archivist for the Hall of Fame on a consulting basis.  He's the father-in-law of current Packers' coach Mike McCarthy.
Green Bay, a City and its Team arrives just in time for the 2011 season and with the Packers coming off their Super Bowl XLV championship, the timing couldn't be better.  Click here
to order the book via Amazon.com.