He may have been somewhat of an unknown to Packer fans when he was selected in the second round of the 2008 NFL Draft but six years later, there's a rush for Jordy Nelson rookie cards.  With Donald Driver, Greg Jennings and James Jones now out of the picture, the Kansas State product has become Aaron Rodgers' unquestioned go-to guy.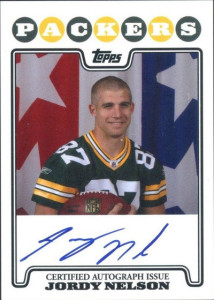 Nelson is a cult hero of sorts in Green Bay, making his first real splash in Super Bowl XLV and following that performance with more growth in the seasons that followed.  Now in his prime, Nelson has become one of the league's elite receivers.  Some now consider him a 'top 5 NFL talent'.  Jordy Nelson rookie cards are prized by Packers collectors and football fans in general who see him as a potential investment.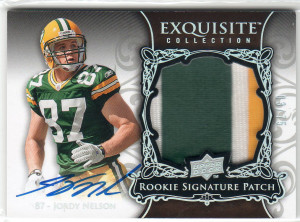 So far, Nelson has been the subject of 1,857 cards according to Beckett Media.  Some of those are very similar to each other—perhaps a different border color (a "parallel" in collecting terms) or a manufactured rarity such as a 1/1 printing plate.  There are 37 Jordy Nelson rookie cards in all, from several different manufacturers including Topps, Panini America/Donruss and Upper Deck. There are 1,492 serial numbered cards (limited print runs), 485 cards featuring a piece of Nelson-worn memorabilia and 445 autographed cards, 53 of which are on the card with the rest on stickers.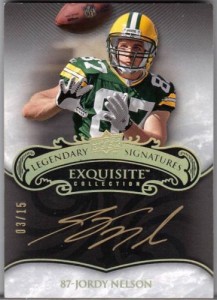 While a run-of-the-mill Nelson base rookie card can still be had for a buck or two at most, some of those numbered cards have been rising in price.  An Upper Deck Exquisite patch card numbered to 10 sold for $359.99 in October of 2014.  Others with slightly higher print runs have brought $90-$150 on eBay.  A 2008 National Treasures two-color patch with autograph sold for $106.
However, most Nelson autographed cards still sell for well under $100 and most relic cards are usually under $20.  Signed versions of his 2008 Topps rookie card still top out at around $50.  Some of his first signed cards, produced just before the '08 draft by Press Pass and Sage, picture Jordy in his #27 Kansas State uniform and can be had for $7-15 online.
If the Packers continue their run of success and Nelson continues to pile up the yards, touchdowns and post-season awards, it's likely those who bought his rookie cards early on will be very happy they did.
The best advice is to buy an on-card Nelson autographed rookie card, preferably with a serial number of 50 or less.  The lower the print run, the more you'll pay but in the long run, that scarcity is desirable for collectors and you'll have a better long-term investment.
Click here
to see Jordy Nelson rookie cards available now on eBay.