by Doug Ellis
Green Bay Packers hoodies are made by the typical NFL team apparel manufacturers like Mitchell & Ness, which makes awesome throwback hoodies but you can also find a Victoria's Secret women's Packer hoodie. You can find kids models for as low as $2-3 on up to high quality guys versions at $75.  Most are somewhere in the middle.
I have owned a few t-shirts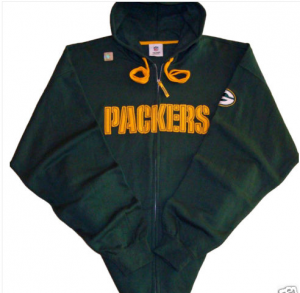 and things in the past but I have always held back from buying one of the most popular pieces of team apparel:  the hoodie.  I finally gave in and found one on eBay at a good price.  Brand new, shipped quickly, really well packaged and turned up before I had expected it! I eagerly ripped off the packaging and was really pleased to feel the super quality of this classic. The fleece was really thick and the seams really strong.
This might sound silly, but the colors were also really saturated. They don't have any hint of being washed out and look like they will hold really well. The green is really vibrant and the gold (or yellow) is really clear. The hood is also big enough for my head - I have a number of hoodies where I can't really wear the hood up because it's just the wrong size or too snug. This one fits me really well and doesn't feel like I'm wearing a silly hat.
I also love the fact that it can reverse showing the grey colors on the inside.  It's an awesome feature, and saves me money too - I don't have to buy two-- I have one that will do for all situations.
Honestly, the best deals, and the biggest selection of Packers hoodies is on eBay. At last check there were nearly 1,000 listings
for different styles and sizes for men, women and kids, although you'll also find some hooded parkas mixed in.As popular as the team is all over the world, it still  blows me away how many different types of Packers outerwear are available.  The hoodie is easily the most popular.  Best of all?  It's a style that has stood the test of time and isn't going anywhere.