If you're born into a family of Packer fans, you don't have much choice.  From the time they're born, Packer fan offspring sport the team colors.  They start early buying Green Bay Packers baby clothes.  You would be surprised in the wide variety of green and gold newborn apparel that is available.
You can find short-slee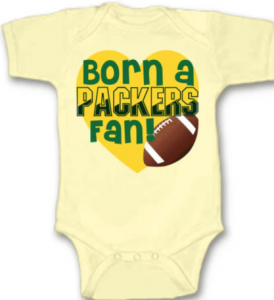 ve creepers.  You could get your future quarterback a green and yellow onesie  with the Packer's logo right on the front so the whole world can know he is a Cheesehead!
For your little girl there are adorable cheerleader outfits, both short sleeve and long sleeve for those cold Wisconsin winters.  those long sleeves will come in extra handy if the game goes into overtime.
We can't forget about the bibs and there is a huge assortment to choose from online. You will need several...and of course, a nice one for game day.
Green and gold Packers baby jackets are available for both boys and girls so they can travel the northland in style.
Adult jerseys are everywhere, but you can also find a Packers jersey for baby.
You can find your bundle of joy pajamas for the night after the game so they can dream about Aaron Rodgers.
eBay has dozens of Packers baby items, some new and some gently used.  It's a great place to get the best bang for your greenbacks.  Click here
to see what's available.
There is no doubt you want to build a strong foundation for the little one, and you want them to value family, friends, hard work, and Green Bay Packers football!   Packers baby clothes are great whether you're buying for your own newborn or a shower or baby gift for another Packer fan.  It also provides an opportunity to covert a youngster whose parents might (gasp!) actually root for someone else!