One of the great things about collecting signed photos is that you can always find something new.  Soon to be considered one of the most photographed NFL quarterbacks of his generation, Aaron Rodgers autographed photos encompass a huge variety.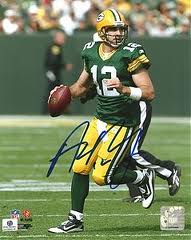 There are shots from his rookie season.  Shots from his first few years behind Brett Favre, pictures from his regular season games, iconic shots of him diving for the goal line against the Bears or putting "the belt" on against the Falcons or holding the Super Bowl trophy.
Aaron Rodgers autographed photos are no longer cheap, but he's not going to cost you as much as a Tom Brady or Peyton Manning just yet.  Expect to pay $150 and up for a nice Rodgers signed photo, depending on size, quality and authentication.
Personally, I like the shot of Rodgers diving for the goal line.  It shows him at his best, ready to go all out and give up his body for the team.  If you prefer one with him in his home uniform against the backdrop of Lambeau Field, though, it's hard to argue.  A classic sun-splashed photo of him in dropback mode is timeless.
Of course, the shot that most people would pick is the already famous picture of Rodgers standing on the podium after Super Bowl XLV, just seconds after Clay Matthews put the championship belt on his shoulder.  It's probably destined to become the undisputed king of Aaron Rodgers autographed photos, showing the once overlooked quarterback at the top of the mountain for the first time, confetti streaming down from the roof of Cowboys Stadium.