Legends are born through hard work. Legends must be resilient and be able to look beyond their tribulations. They are found everywhere. They can be fathers, mothers, pilots, politicians, and so on.  Legends can be found in virtually any field. Of course not all legends are recognized but we have to recognize the 1961 Packers. These are true football legends.  We use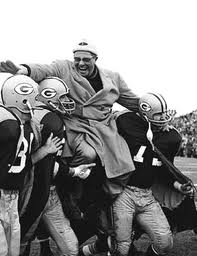 present tense because legends never die.
The Green Bay Packers have won 13 league championships. This is more than any other professional football team. In addition to their league numerous NFL titles, they have also won four Super Bowls.  The Packers are also the only team to have won three consecutive NFL titles, something they accomplished twice (in 1929-1931 and 1965-67).  At the end of 1950s, another NFL championship seemed like a pipe dream, however.
Legends also experience problems and the Green Bay Packers were not an exception. After World War II, they suffered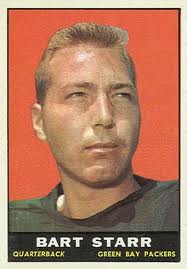 due to a number of reasons. One of them was that they were not winning as usual. The Packers were long removed from the Don Hutson era, a floundering franchise in a league that was now moving toward bigger cities.  Green Bay seemed like a quaint relic from a bygone era.  The long-running franchise in the NFL's coldest city needed a jump start.  It happened when the Packers hired New York Giants assistant Vince Lombardi as head coach. He knew the problems facing the Packers and quickly set about to turning the club's fortunes around. Lombardi's confidence and eye for talent helped build the Packers into a contender in record time.
The hiring of Lombardi led to the Packers playing for the NFL championship in 1960 but a loss to the Eagles meant there was still work to do. Playing in the still new City Stadium, later re-named Lambeau Field, they went 11-3.  In the championship game, the 1961 Packers annihilated the Gia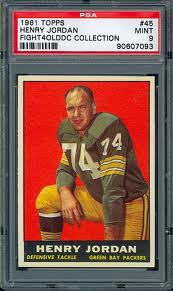 nts 27-0 and took their seventh title.
Legends have to be recognized and a way of recognizing football legends is by use of trading cards. Some of the famous Packer names on 1961 Topps football cards included Bart Starr, Paul Hornung, Jim Taylor, Boyd Dowler, Max McGee, Jim Ringo, Bill Forester and Henry Jordan's rookie card, which is worth nearly as much as those of Starr and Hornung. There's also a Packers team card.  There was also a 1961 Fleer football set which included most of those players (except for Jordan) and also cards of Jerry Kramer and Forrest Gregg. Even Wisconsin's Lake to Lake Dairy got into the card game, producing a set issued in food products that year.  For fans, those cards represent the beginning of Lombardi's winning era.
From the 1961 Packers, you can learn a lot. When you look at the hiring of Lombardi, you should learn that there is time for change and when you look at the players, you should learn never to give up as there is always hope.